Dear Parents/Guardians,  
COVID CASE UPDATE 
Since our update yesterday, the College has been notified of a further four cases of COVID-19: one in Year 2 (2A), one in Year 6 (6C), one in Year 8 (8C) and one in Year 11 (11A). Please note that most of the new cases were not at school during their infectious period; any relevant close contacts have been individually contacted. 
This brings our total current confirmed cases for this week to: 
Kindy – 1 
Year 1 – 1  
Year 2 – 1  
Year 5 – 2 
Year 6 – 2 
Year 7 – 3 
Year 8 – 2 
Year 9 – 3 
Year 10 – 1 
Year 11 – 1  
Year 12 – 2 
The College, through direction from the Department of Health and AISWA, will continue learning as normal this week. College activities may adjust subject to instructions from the Department of Health and AISWA and may change in response to increased community spread, should this occur. 
COVID REMINDERS  
Reporting a Positive Student Test Result: email covid@mbc.wa.edu.au 
Reporting a Students as a Close Contact: email covidiso@mbc.wa.edu.au  
At Home Learning / Hybrid Remote Learning 
As a reminder, information about At Home learning in the Primary School can be found here and Hybrid Remote Learning in the Senior School can be found here (Parent Pack) and here (Student Pack).  
Returning to School Following a COVID Infection 
From this week, students will begin to return to school following recovery from COVID-19. Please be advised that a positive COVID-19 diagnosis precludes any student from being deemed a close contact for eight weeks following the date that they finish isolation. 
Please also note that there is no testing required to complete a quarantine period following a positive COVID case – as long as the 7 days have been completed and all symptoms are clear, students can return to school with no further testing required from Day 8.  
Family/Household Isolation Periods – Clarification from Department of Health 
Due to the move to very high caseload settings, the following change to family/household isolation periods has been made (information from the WA Health Frequently Asked Questions) – 
If one of my children tested positive for COVID-19 and my second child tested positive later, do we need to start our isolation again? 
If a second person tests positive while the family is completing 7 days of isolation, you do not need to start the 7 days of isolation again. The family members who are close contacts only need to complete one 7-day isolation period. The second child who tests positive will need to start their 7-day isolation period from the time they tested positive. 
If a second person tests positive several weeks after the family have completed their first 7 days of isolation, the family will need to complete another 7 days isolation. However, anyone that was previously a positive case does not need to isolate again provided it is not more than 8 weeks from when they were released from isolation and they are not immunocompromised or symptomatic. A person who has had COVID-19 is not considered a close contact for 8 weeks after they have been released from isolation. 
Students Travelling To and From Isolation Premises 
Under the Directions, where a student develops symptoms and is required to leave school for testing and isolation they must travel: 
wherever practicable, only with a member or members of their own household or alone if old enough to do so; and 

in any event, not by way of bus, train, or other form of mass public transport unless there is no practicable alternative available. 
Isolation Requirements for Families of Close Contacts 
As communicated last week, the State Government has announced that Western Australia will move to very high caseload settings from 12.01am Thursday 10 March.  
As a College, we continue to follow the latest WA Health advice.  
Under very high caseload setting, students who are asymptomatic close contacts (other than those who are household close contacts) may now: 
continue attending school; 

attend before school care or after school care; 

attend school-based sporting or cultural training, practice, or events organised through the school and held immediately before or after school at their school; and 

travel between the student's usual place of residence and their school. 
At all other times, asymptomatic close contacts should quarantine for seven days and get tested. As with other close contacts, children who are identified as close contacts should be tested on Day 1 and Day 6 (if a PCR test) or 7 (if a RAT).  
Students are considered close contacts if they are:  
A household member or intimate partner of a person with COVID-19 who has had contact with them during their infectious period (a 'household close contact'); or 

Someone who has had close personal interaction with a person with COVID-19 during their infectious period, including: 

At least 15 minutes face to face contact where a mask was not worn by the exposed person and the person with COVID-19; or 

Greater than two hours within a small room or a classroom environment with a person with COVID-19 during their infectious period, where masks have been removed for this period by the exposed person and the person with COVID-19 (note: others wearing masks in this scenario would not be a contact); or 

Someone who is directed by WA Health that they are a close contact. 
An asymptomatic person means they have no COVID-19 symptoms.  
These arrangements do not apply to children who are 'household close contacts' or who are experiencing any COVID-19 symptoms; these children must not come to school. 
If a member of your household is COVID-19 positive, then the whole household are deemed household close contacts and the testing and isolation protocols apply. If your child is unwell, they should stay at home and get tested.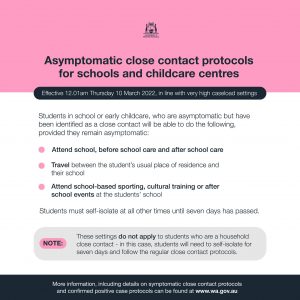 Advice for all families and staff: 
The school remains open. 

The College will continue our enhanced cleaning regime. 

Identified close contacts have been contacted; if you have not received this contact your child is not subject to close contact protocols. It should be noted that not all students were at school when infectious. 

As for everyone in Western Australia, we ask that you monitor your student/yourself for symptoms of COVID-19 and get tested and isolate until you receive a negative result, if symptoms develop. 

Please note that the Omicron strain can present with less typical symptoms such as diarrhea, particularly in children. 

If you have queries or concerns, please contact WA Health on 1300 316 555 
If you or your child develops symptoms, please do not attend school. Should your child test positive, we would appreciate if you could please contact the College immediately by emailing covid@mbc.wa.edu.au. If you could please include whether the positive is via RAT or PCR and the date your child began experiencing symptoms, it would be appreciated. Please note that we have been advised that, as we have experienced positive cases in our community, a RAT, even if not a close contact, will be sufficient to confirm a case – this will not, at this stage, need to be confirmed by a PCR test. 
It is very important that you continue to remind your children that the best way to minimise risk is to maintain good hand hygiene and to wear a mask (where applicable). Ensuring access to spare masks in your child's school bag so that they have a mask if they forget theirs in the morning or if theirs breaks during the day is also important. For a helpful resource on how to manage Covid-19, click here. 
If your child is deemed a close contact from exposure outside of school, please contact the College by emailing covidiso@mbc.wa.edu.au.  
For further reference to testing and isolation requirements, click here. 
We understand that this will be a challenging time for many families as they navigate the requirements of isolation. If you require any further information, or would like to access further support, please contact the College. 
Kind regards, 
Rob Gratton and Matt Dusci 
Principals – Mandurah Baptist College